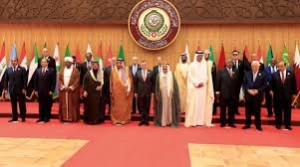 Si è concluso domenica scorsa il summit della Lega Araba, giunto alla sue 29esima edizione. L'incontro, tenutosi a Dharan (Arabia Saudita) ha visto riunirsi i 21 membri attivi della lega e personalità di spicco dello scenario internazionale, come l'Alto rappresentante dell'Unione Europea per gli Affari Esteri e la politica di sicurezza Federica Mogherini, il presidente della Commissione dell'Unione Africana Moussa Faki e il Segretario Generale delle Nazioni Unite Antonio Guterres. Unico membro assente la Siria, sospesa dalla Lega nel novembre del 2011, quando iniziarono le rivolte nel paese ed in seguito alle azioni repressive condotte dal regime di Assad a danno della popolazione civile.
I vari paesi membri erano rappresentati dai capi di stato e di governo, ad eccezione del Qatar che, invece, ha inviato il proprio rappresentate presso la Lega Araba. Un gesto, questo, accolto non molto positivamente dal resto della comunità araba. Ricordiamo, infatti, che da parecchi mesi i rapporti della monarchia con i paesi arabi e mediorientali si sono fortemente incrinati, determinando una crisi diplomatica proprio tra vicini di casa. In particolare, lo scorso 5 giugno, Arabia Saudita, Emirati Arabi Uniti, Bahrain ed Egitto hanno annunciato la rottura delle relazioni diplomatiche con il Qatar, accusando quest'ultimo di fornire supporto a gruppi estremisti e terroristi. L'invito del Qatar a partecipare al summit era arrivato insieme all'annuncio che la crisi diplomatica non sarebbe stata posta nell'agenda dell'evento. L'assenza dell'emiro del Qatar, è stata, dunque, percepita come un segno di arroganza, che ha gettato ulteriore benzina su un fuoco ancora molto ardente.
Il vertice si è concentrato maggiormente sui temi in agenda, mostrando come vi sia una notevole unità di pensiero tra i leader su temi d'importanza cruciale per il contesto arabo e mediorientale e gli equilibri tra la regione e gli attori esterni.
Tre i grandi temi trattati: la questione israelo-palestinese, la guerra in Yemen e la pericolosa influenza dell'Iran. Non sono, invece, stati messi in agenda, come accennato, né la crisi diplomatica con il Qatar né la guerra in Siria. Tuttavia, un comunicato stampa pubblicato dalla Lega Araba al termine del summit invoca la conduzione di "independent International investigation to guarantee the application of International law against anyone proven to have used chimical weapons". Da notare, infatti, che il summit ha avuto inizio 24 ore dopo l'attacco di USA, Gran Bretagna e Francia sui alcuni siti militari siriani. Tale azione nasce in risposta ad un presunto attacco chimico condotto dal regime contro alcuni ribelli, attacco per altro negato dal presidente Bashar e l'alleato russo.
PALESTINA E ISRAELE
Riflettori puntati su Palestina ed Israele, tema che ha portato alla luce una posizione peculiare dei paesi arabi. Da un lato, la ferma opposizione alla decisione del presidente statunitense Donald Trump di spostare la sede dell'ambasciata da Tel Aviv a Gerusalemme, riconoscendo quest'ultima come capitale della nazione israeliana. Per un paese come gli Stati Uniti, che ha sempre giocato un ruolo di mediazione nel conflitto arabo-israeliano, un gesto simile viene visto dai leader mediorientali come uno spostare la propria posizione di neutralità verso quella di terza parte in causa, un passo decisamente significativo (e se vogliamo, pericoloso) in un contesto delicato come quello del Medio Oriente. Come sottolineato dal re Salman -che ha rinominato il vertice "Jerusalem summit" proprio per sottolineare la solidarietà verso il popolo palestinese- i leader arabi riconoscono il diritto del popolo palestinese di stabilire un proprio stato indipendente, con Gerusalemme come capitale. La stessa Gerusalemme Est appartiene, a loro opinione, ai territori palestinesi. In aggiunta, il re Salman ha annunciato la donazione di 150 milioni di dollari all'amministrazione religiosa che gestisce i siti religiosi musulmani a Gerusalemme, come la moschea Al-Aqsa e di altri 50 milioni per i programmi condotti dalle Nazioni Unite per il soccorso e l'occupazione dei rifugiati palestinesi nel Vicino Oriente.
Dall'altro lato, invece, i leader arabi –ad eccezione del presidente Abbas- si sono espressi a favore del piano di pace proposto da Trump per il conflitto tra i due popoli. I dettagli di questo piano, tuttavia, non sono ancora stati resi noti, ma potrebbe prevedere una soluzione a due stati.
GUERRA IN YEMEN
Altro tema caldo è stato la guerra civile che da circa tre anni logora lo Yemen, e vede coinvolti (sul campo e a livello di interessi in gioco) diversi attori mediorientali accanto a potenze straniere come Russia e Stati Uniti. Il paese è teatro di scontri tra le forze fedeli al governo di Hadi, che di fatto ha perso il controllo di numerose porzioni del territorio nazionale, e i ribelli Houthi, alleati con l'ex presidente Saleh e supportati militarmente e finanziariamente dall'Iran. In campo, inoltre, una coalizione militare a guida saudita, che vede impegnati paesi occidentali (USA; Francia, GB) e alleati mediorientali, come gli Emirati Arabi.  Ancora una volta i leader arabi hanno riaffermato il loro supporto alla nazione e l'obiettivo di ripristinare l'unità, l'integrità, la sicurezza, la sovranità e l'indipendenza della nazione yemenita. La totale responsabilità attribuita ai ribelli Houthi, rimanda ad un altro tema centrale del summit: l'Iran e la politica aggressiva sul piano internazionale.
L'AGGRESSIVITÀ' DELL'IRAN
Non sono mancate nel corso della giornata condanne alle politiche condotte all'estero dall'Iran, dettate da atteggiamenti aggressivi e perpetuate violazioni dei principi del diritto internazionale. Diretto riferimento al supporto ai ribelli Houthi in Yemen, ma anche al regime di Bashar al Assad in Siria. Chiaro il tentativo del re Salman di sfruttare il summit per allineare i paesi arabi contro lo storico rivale Iran. L'Iran, ad oggi, è visto come la principale causa di instabilità nella regione, "colpevole" di destinare le proprie risorse finanziarie e militari per alimentare guerre per procura in paesi dilaniati da anni di guerra civile, come appunto Siria e Yemen. In Siria, come detto, le milizie shiite iraniane supportano le forze governative di Assad, regime anche questo shiita. Similmente in Yemen, l'esperienza militare e le armi iraniane sostengono i ribelli Houthi, che hanno nel corso del conflitto conquistato diverse porzioni del territorio nazionale, compresa la capitale Sana'a. Non è mancata la risposta iraniana: il portavoce del Ministero degli Esteri iraniano Bahram Qasemi ha, infatti, dichiarato che le accuse sollevate in occasione del summit sono solo il risultato della pressione esercitata dal suo più grande nemico, l'Arabia Saudita, paese ospite del summit.
Vediamo, quindi, come le acque nel Medio Oriente continuino ad essere piuttosto agitate. Sebbene si possa intravedere un'unità d'intenti in alcuni ambiti, i temi caldi sono ancora molti ma soprattutto manca allo stato attuale un vero e proprio "corse of action" per raggiungere gli obiettivi raggiunti. È auspicabile, dunque, che questo messaggio di allineamento dei paesi arabi si trasformi ora in un'azione pratica, che possa portare, step by step, a garantire una maggiore sicurezza e stabilità nella regione.
Paola Fratantoni